$15.00
$0.00
CLOAKED IN PEACE
Nothing will break my spirit.
I understand that feelings can be deceptive, and I choose to stand on truth. No matter what happens, I know that He holds me in the palm of His hand.
I am a Rooted Woman, and I am CLOAKED IN PEACE.
Wholesale customer?
Login to see your pricing.
Customer Reviews
I really love it...
This polish is beautiful and it's a good quality product: no clumps at all! I keep looking at my nails, they look so pretty! I'm already planning my next purchase from Rooted Woman. I also purchased the nail polish remover and I'm anxious to use it as well.
12/13/2020
Miranda B.

United States
Beautiful
I love this unique color. It's like a rose gold raisin pink. Can't stop staring at my nails when I wear it!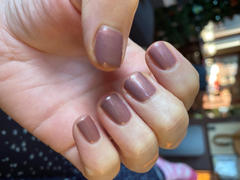 07/05/2020
Lauren P.

United States
Obsessed
Obsessed with these! Love that they're free from the nasty 5 and the color selection is phenomenal. I can't wait to try the natural polish remover!