$15.00
$0.00
Forgiven
I will not be stingy in my forgiveness.
I make the choice to forgive myself and others, shaking off the soul-crushing weight of bitterness.
I am a Rooted Woman, and I am FORGIVEN.
Wholesale customer?
Login to see your pricing.
Customer Reviews
01/05/2022
Lyn

United States
Holiday treat!!
I'm in love with how the color gives me that hot cocoa vibe and puts me in a merry mood even after the holidays. This dark brown is the best!!!❤️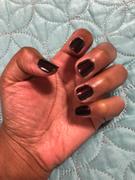 01/02/2022
Shanice H.

United States
Beautiful dark color!
Love this color! It is just what I was looking for.
08/06/2020
Rachel H.

United States
A New Fav
I saw this nail color in one of the featured photos on the RW site and knew that I had to have it. It came and I'm hooked! This will be my go to fall color!